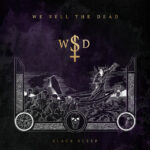 ARTIST: We Sell The Dead
TITEL: Black Sleep
RELEASE: 2020
BOLAG: e-a-r Music
BETYG: 8/10
SKRIBENT: Robert Gustafsson
WE SELL THE DEAD är tillbaka med sitt andra album, och för oss som även har debuten "Heaven Doesn't Want You… And Hell Is Full" under bältet är det tydligt att sidoprojektet nu verkligen hittat sin form. Niclas Engelin (gitarr), Apollo Papathanasio (sång), Jonas Slättung (bas och sång), Oscar Nilsson (trummor) och Petter Olsson (keyboard) lyckas smälta samman sina digra musikkarriärer i diverse band och genrer till en helhet på ett väldigt bra sätt här. Bandnamnet kan vilseleda, för det som serveras är melodisk hårdrock med en oerhörd känsla. Det lutar mer mot pop än elakheter och dödsmetall – lyssna på Carved In Stone som ett gott exempel.
Personligen är det här en växande skiva. Redan från första lyssningen gillade undertecknad en del av de uppenbara spåren så som titelspåret och Across The Water, men det är något med plattans hela väsen som gör att jag fortsatt lyssna på den – och baske mig om inte hela skapelsen vecklat ut sig till ett helt pärlband av favoriter! Hour Of The Wolf, River In Your Blood eller majestätiska och melankoliska avslutningen Shallow Grave är bra exempel på låtar som rört sig från "bra" till "oumbärliga", och i speltid har plattan som helhet konkurrerat ut de flesta sedan den kom.
Betyget lutar uppåt, överraskar jag mig själv med att konstatera. Det här är kanske inte nyskapande, men det är innerligt och ruggigt bra!