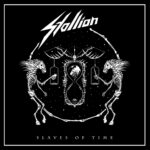 ARTIST: STALLION
TITEL: Slaves Of Time
RELEASE: 2020
BOLAG: High Roller Records
BETYG: 8/10
SKRIBENT: Robert Gustafsson
Tyska STALLION besjunger under de första fyra låtarna hur det är att spela i ett heavy metal-band. Det handlar om att väcka monstret för en livespelning utan nåd, peppen att komma till en ny stad i samband med turné och att satsa allt. Låttitlarna på dessa fyra spår är således Waking The Demons, No Mercy, Time To Reload och All In. Det är, kort sagt, inte speciellt komplicerat eller avancerat vare sig det gäller lyrik eller musik och det är inte utan att man kan dra lite paralleller till vårt svenska BULLET. Heavy metal och livsstilen blir liksom ett självändamål, och ibland är det precis vad doktorn ordinerar.
STALLION består av Pauly (sång), Äxxl och Clode (gitarr), Stämpfe (bas) samt Aaron (trummor), och de ser på promobilderna ut på pricken som du kan tänka dig; en korsning mellan RUNNING WILDs Rock'n'Rolf i unga dar och halva publiken på valfri rockfestival. Jag gillar det, för ska man spela musik med lika delar nitar, V-formade gitarrer och svett så är det bäst att det är äkta och inte blir parodi. Och STALLION är äkta, från start till mål på "Slaves Of Time".  Allra bäst är faktiskt halvballaden Die With Me, en låt som känns rätt tafflig första gången man hör den – speciellt i början – men växer till ett urstarkt epos.
Är du på humör för hårdrock som hyllar hårdrock så är STALLION ditt soundtrack!