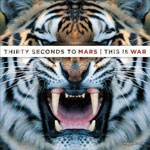 ARTIST: 30 Seconds To Mars
TITEL: This Is War
RELEASE: 2009
BOLAG: Virginia Records

BETYG: 7/10
SKRIBENT: Amelie
Mycket – mer – This Is War
Ska det vara kajalsvärtad mjukmetal med bombastisk framtoning så ska det vara Jared Leto och hans 30 SECONDS TO MARS, inget annat. Bandets förra platta, "A Beutiful Lie" från 2005, äger det bästa genren har att bjuda, och som liveband är gruppen ytterst sevärd. Kombinationen av humor, samhällsengagemang och utvecklad estetik gör bandet till en glädjekälla i en svart värld.
När så uppföljaren "This Is War" tar plats i spelaren känns konceptet igen. Bara ännu mer av allt. Mer dramatiska effekter, fler körpartier (körer bestående av bandets fans världen över), större melodier och mer intrikat lyrik. Mera "bra" blir bättre, men nånstans slår det över och klyschan "less is more" dyker oombedd upp i huvudet. "This Is War" balanserar hela tiden på gränsen till att bli fånig i sin storvulenhet – men håller sig till slut på den rätta sidan, är riktigt älskansvärd och känns trots allt ärlig och äkta.
Förstasingeln Kings And Queens är inte det bästa plattan har att ge men videon till låten är en av fåtalet videor under året 2009 som faktiskt är värd din tid.
Så. Gamla fans av 30 SECONDS TO MARS, ta ett djupt andetag och bered er på mer, mycket mer, av det ni älskar. Och nya lyssnare: ge detta en chans, det finns faktiskt mycket mer under ytan än vad som kanske anas vid första anblicken.
/BiblioteKarin