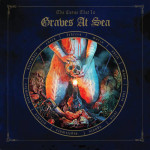 ARTIST: Graves At Sea
TITEL: The Curse That Is
RELEASE: 2016
BOLAG: Relapse
BETYG: 8/10
SKRIBENT: Martin Bensch
Att säga att GRAVES AT SEA har tagit god tid på sig att pressa ur sig första fullängdaren är lite av en underdrift. 15 år efter det att bandet bildades kommer nämligen "The Curse That Is" ut. Jag kan mycket väl tänka mig att bandets medlemmar har fått höra frågan om skivans utgivningsdatum till leda. Visserligen har bandet ett antal EP:ar, demos och splittar på sitt samvete, men ändå.
När det numera Portlandhemmahörande (var annars?) bandet kommer till skott så gör de det med besked. "The Curse That Is" skryter med en speltid på över 1 timme, och har ett antal låtar som är långa. Och jag vågar hävda att de lyckas med bravur att ro hem den minst sagt tunga och överlastade eka som skivan är.
Genomgående känns skivan så sjukt angelägen att det skär i hjärtat, men allra bäst blir det i tre låtar: avslutande Minimum Slave som klockar in på 14 minuters ren uppvisning i sväng och tyngd, The Ashes Made Her Beautiful vars rent majestätiska uppbyggnad till en skriande och bedövande vacker slutpunkt får mig att tänka tanken på att detta kan vara en låt som tar en plats som en av de starkaste för hela året, samt titellåten som så effektivt sätter tonen för hela skivan.
"The Curse That Is" är en väldigt imponerande skiva som jag verkligen kan rekommendera om du vill ha musik som känns angelägen och där intention och slutresultat har en klar röd tråd. Kolla in den.