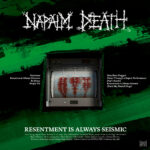 ARTIST: Napalm Death
TITEL: Resentment Is Always Seismic – A Final Throw Of Throes
RELEASE: 11/2 2022
BOLAG: Century Media

BETYG: 7/10
SKRIBENT: Martin Bensch
People Pie är ett haveri. Denna cover på SLAB!s låt är vid sidan om slutlåten tillika titellåten det enda jag har emot den här skivan som mest är en eftersläng som jag förstår det till "Throes Of Joy In The Jaws Of Defaitism", en skiva som jag verkligen gillade.
Min kärlek till NAPALM DEATH torde vid det här laget vara så väl dokumenterad att bandet skulle kunna spela in nästan vad som helst och jag skulle tycka att det var bra. Lite så är det även här – jag unnar såklart bandet att göra vad fan som helst så här 40 år in i karriären – men solklart bäst är de när de ylar loss i klassisk punkig grindcore.
De gör de även här. Den politiskt motiverade vrede som, oftast, varit bandets drivkraft och som drar mig till bandet finns även här. By Proxy är en helt fantastiskt bra låt som det sprutar adrenalin om, likadant är det med magiskt punkiga Man Bites Dogged. 
Gillar man NAPALM DEATH sedan innan, och då deras senare diskografi är detta en skiva som är klart nöjsam att lyssna på. Hantverket är solitt, det är argt som bara den och det är omöjligt att inte imponeras av den kraft som bandet lyckas bibehålla även så här långt in i karriären.