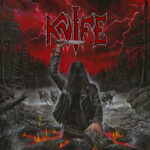 ARTIST: KNIFE
TITEL: Self Titled
RELEASE: 2021
BOLAG: Dying Victims Productions

BETYG: 7/10
SKRIBENT: Robert Gustafsson
Är du ute efter en paus? Ett break, en platta som kanske inte kräver hundra procents fokus och dedicerad lyssning för att avslöja sina hemligheter? Låtar som du kan skråla med i redan vid första varvet, gärna i kombination med en gnutta klackspark?
Detta är svaret.
KNIFE (genialiskt namn – hur kan det inte vara upptaget och varumärkesskyddat?) levererar med sin självbetitlade debut 12 låtar vars syfte snarast är att få dig att skita i allt och bara vilja mosha dig genom plattans 36 minuter och 37 sekunder. Mosha? Jo, det handlar om trash. Eller kanske thrash med dödsanstrykning, framförallt drivet av frontmannen Vince Nihil (! Hej MÖTLEY CRÜE-Vince!) och hans jävlar-anamma-röst korskopplat med drivet riffande.
Spår som Inside The Electric Church, White Witch – Black Death, K.N.I.F.E, The Hallowed Chamber Of Storms, 1989 eller I Am The Priest borde få dig att vilja klä dig i jeansväst och dra kniv för att sen härja runt som en dåre hemma. Och sjunga med. Redan vid första varvet, för det är okomplicerat och glädjande i sin enkelhet, detta. Det är också det som gör att det inte blir ett högre betyg, för en paus är en paus. Det är trevligt och okomplicerat och roligt, men det finns å andra sidan lite mindre vad gäller djup och långsiktig hållbarhet.
Och det är okej. KNIFE är okej och kan vara din paus!