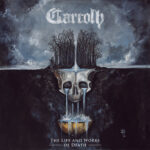 ARTIST: CARCOLH
TITEL: "The Life And Works Of Death"
RELEASE: 2021
BOLAG:  Sleeping Church Records

BETYG: 7/10
SKRIBENT: Robert Gustafsson
Franska CARCOLH är åter med sin andra platta "The Life And Works Of Death", och för oss som gillade debuten "Rising Sons Of Saturn" från 2018 så väntar mer av samma vara – dvs doom metal. Bandet sträcker sin musik från relativt långsam och lite släpig doom till mer snärtig sådan, där de i sina snabbare moment minner en hel del om gamla BLACK SABBATH. Personligen föredrar jag bandet i det spektrat, och tycker därför att öppningslåten From Dark Ages They Came är ett lite svårt val, men det är såklart  en smaksak. Nu får man dock ca 2 minuter rätt långsam inledning som man behöver orka förbi om man inte är lagd åt just den sortens doom – men det är klart värt det. Den här skivan bjuder nämligen på riktigt fina höjdpunkter under resans gång!
CARCOLH är en kvintett bestående av Quentin Aberne & Olivier Blanc på gitarr, Benoit Senon  bakom trummorna, Mathieu Vicens på bas och Sébastien Fanton på sång, och den sättningen känns stabil och kompetent. Bandets namn är hämtat från en mytisk varelse i fransk folksägen, en varelse som kan liknas vid en stor snigel och som fick en egen låt på förra plattan (Dragonsnail). Det saknas denna gång, men det gör inget då bandet kompenserar med låtar som Works Of Death, When The Embers Light The Way och The Blind Godess.
Detta är knappast originell eller nyskapande musik, men CARCOLH levererar bra, och för oss som har en soft spot för gamla SABBATH-vibbar (vem har inte det?) så är det ett givet köp!