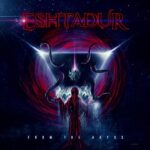 ARTIST: Eshtadur
TITEL: From The Abyss
RELEASE: 4/9 2020
BOLAG: Egen utgivning
BETYG: 8/10
SKRIBENT: Martin Bensch
ESHTADUR från Colombia gör det mesta rätt på "From The Abyss". Att göra en cover på FIREHOUSEs "All She Wrote" är inte en av de sakerna, men tack och lov väger resten av skivan upp för detta i mina ögon ganska monumentala klavertramp.
ESHTADUR spelar melodisk dödsmetall, och de gör detta bra. Det finns ett bra driv i nästan alla låtar, tvåtakten dyker upp med stor regelbundenhet, gitarrslingorna är oftast rykande bra, och det låter oerhört mäktigt om bandet.
Att bandets originalitet må vara liten kan vi skriva upp som en radanmärkning – det är svårt att komma med något nytt inom den melodiska dödsmetallen. Men i låtar som Lowborn Bastard, tvåtaktaren The Adverse Side och The Oathbreaker bjuder bandet upp till yster ringdans till stor förnöjsamhet.
Gillar man melodisk döds så funkar "From The Abyss" helt utmärkt. Bra låtar, bra produktion och rätt stämning gör att jag förlåter det mesta, till och med en genomusel cover.