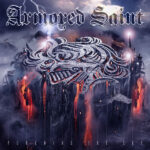 ARTIST: ARMORED SAINT
TITEL: Punching The Sky
RELEASE: 2020
BOLAG: Metal Blade Records
BETYG: 8/10
SKRIBENT: Robert Gustafsson
Ska man skriva en recension av mer eller mindre legendariska ARMORED SAINT så är det antagligen lika bra att lägga korten på borden direkt: jag är oerhört svag för när John Bush sång ges utrymme för det episka, och det dröjer inte längre än refrängen på öppningslåten Standing On The Shoulders Of Giants förrän gåshuden reser sig på armarna.  Det är galet mäktigt, och drar mot höga höjder!
Efterföljande skiva är sedan ganska ojämn, framförallt initalt. Spår som The End Of The Attention Span, Do Wrong To None eller Lone Wolf är bra, men har såväl hög- som lågpunkter, Joey Vera (bas), Phil Sandoval (gitarr) och Gonzo Sandoval (trummor) är ett tajt band som vill så mycket att det skiner igenom. Ibland blir det liksom för mycket, och egentligen skulle den här skivan ha vunnit på att skäras rejält. Mer lean. Snålare. Men det glömmer man bort när refrängen på ex Lone Wolf kommer på. Eller de två mest kompletta låtarna Missile To Gun respektive  Fly In The Ointment, det är kort sagt två klassiska ARMORED SAINT-låtar som får lyssnaren att komma ihåg fornstora dagar.
Betyget? Ständigt ökande. Betygsåttan delas ut efter en 8-10 varv med plattan. Vem vet hur detta slutar…?