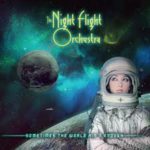 ARTIST: The Night Flight Orchestra
TITEL: Sometimes The World Ain't Enough
RELEASE: 2018
BOLAG: Nuclear Blast
BETYG: 8/10
SKRIBENT: Martin Bensch
Du glade vilket arbetstempo! Ja, så tänkte jag i alla fall när vi nu får en ny skiva av THE NIGHT FLIGHT ORCHESTRA, bara ett år efter att "Amber Galactic" släpptes. Men så har TNFO utvecklats till ett frustande glädjearbete för samtliga inblandade – och då flödar uppenbarligen arbetsglädjen ledigt.
TNFO fortsätter att bjuda på enormt engagerande och förbannat snygg classic rock även på "Sometimes The World Ain't Enough", kanske med en smula mer disco än på tidigare skivor. Blev ni avskräckta nu? Det behöver ni inte bli – vid sidan av trummisens tydligt av Michael B. Tretow ljudideal inspirerade bastrumma och sömniga Pretty Thing Closing In så är detta en ren rockskiva med ett helvetiskt driv.
Det finns ett långt härligt sjok från låt nummer två, Turn To Miami till Can't Be That Bad där TNFO fullständigt dräper med klassmaterial. Musiken ångar av både hantverksskicklighet och känsla – det hörs så attans tydligt att det här bandet har så fruktansvärt roligt i sitt musikskapande.
I vanlig ordning gastar Björn Strid med ackuratess och känsla, gitarrspelet sitter som en skräddarsydd kostym – David Andersson visar igen att han är en gudabenådad gitarrist.
Vill du ha en partyskiva som ackompanjemang till denna fina sommar vi har under 2018, ja, då bör "Sometimes The World Ain't Enough" vara en het kandidat till lyssning. Kolla in den.