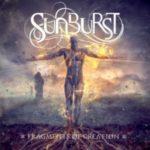 ARTIST: Sunburst
TITEL: Fragments Of Creation
RELEASE: 2016
BOLAG: Inner Wound Recordings
BETYG: 8/10
SKRIBENT: Martin Bensch
Jag behöver inte ledas in i frestelse – jag kan gå själv som Oscar Wilde sade. Det är väldigt lätt att falla för svårt sympatiska SUNBURST från Grekland, då det här bandet lirar med en så frisläppt spelglädje att det är omöjligt att hålla emot.
SUNBURST är ett sidoprojekt för Gus Drax som annars bänder strängar i SUICIDAL ANGELS som ni kanske har hört talas om om ni gillar thrash. I vilket fall, SUNBURSTs mer än lovligt habila power metal med vissa progressiva inslag är i flera instanser helt otroligt bra. Visst, Gus Drax synnerligen drivna gitarrspel tillåts ta mycket plats vilket är mest på gott då han är en väldigt skicklig gitarrist. Men likt Romeo i SYMPHONY X har han vett att hålla igen när det behövs för att inte ta över låtarna fullständigt. I just detta fall är detta väldigt bra för "Fragments Of Creation" är sannerligen en skiva som skämmer bort lyssnaren med bra och välskrivna låtar som känns fräscha.
Kolla bara in finfina Beyond The Darkest Sun som har en väldigt bra tonträff, ett episkt anslag och, ja exakt, ett väldigt njutbart gitarrspel. Genomgående lyckas SUNBURST bygga in så mycket hooks i sin musik att det är hart när omöjligt att inte börja stampa foten och nicka uppskattande.
Vill du ha en i stort sett genomgående positiv platta är "Fragments Of Creation" en skiva som är väl värd att kolla in.