---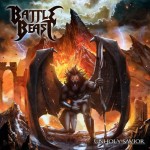 ARTIST: Battle Beast
TITEL: Unholy Savior
RELEASE: 2015
BOLAG: Ward Records
BETYG: 6/10
SKRIBENT: Martin Bensch
Tredje skivan från finska BATTLE BEAST är en till stora delar gravt underhållande skiva. Under en vecka lyssnade jag intensivt på "Unholy Savior", en skiva som jag i ett första skeende mest kollade in för att se hur usel den var och blev som ni kan förstå hårt straffad för mitt första antagande.
Hela vägen håller inte skivan – framför allt är skivans andra hälft från Touch in The Night inte speciellt bra. Den nämnda låten ter sig mest som ett försök till upphettning av något Lilli & Sussi skulle kunna ha gjort under 1980-talet.
Men fram till och med  Speed and Danger bjuder bandet på fartfylld och rejält bra power/heavy metal. Framför allt imponerar sångerskan Noomi Louhimo nåt otroligt med sin vokala kapacitet och det är också hon som får mig att faktiskt höja betyget ett snäpp, trots att övriga bandmedlemmar spelar nog så habilt.