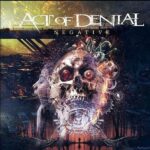 ARTIST: ACT OF DENIAL
TITEL: "Negative"
RELEASE: 2021
BOLAG:  Crusader Records

BETYG: 8/10
SKRIBENT: Robert Gustafsson
Saknar du SOILWORK och hur de lät runt "Figure Number Five" och "Stabbing The Drama" strax efter millenieskiftet? Då är detta en skiva för dig.  ACT OF DENIAL känns lite som ett hopplock vad gäller medlemmarna, men homogent och tydligt som attan när det gäller musiken.
Att samla Björn "Speed" Stridh på sång  (från just SOILWORK, men även THE NIGHT FLIGHT ORCHESTRA och ett helt batteri extraknäck), Steve Di Giorgio på bas (för tillfället i TESTAMENT men också han med en meritlista långre än Tomtens skägg), Kerim Lechner på trummor (SEPTICFLESH), gitarristerna Voi Cox (som lirar i KOZIAK) och Luger (också KOZIAK men även BENIGHTED) samt John Lönnmyr på keyboard (The NIGHT FLIGHT ORCHESTRA) skulle ju kunna vara grogrund för en spretig historia, men icket! Spår som Puzzle Heart, Down That Line, Slave eller för all del titelspåret Negative är slagfärdig & lättlyssnad, stringent levererad melodisk dödsmetall.
Och ja. Baske mig om det inte låter som good old days med SOILWORK.. med lite bandlös Di Giorgio-bas som extra krydda!