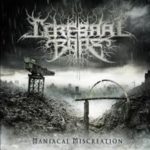 ARTIST: Cerebral Bore
TITEL: Manaical Miscreation
RELEASE: 2011
BOLAG: Earache Records

BETYG: 7/10
SKRIBENT: Martin Bensch
Brutal Death Metal – prick det är det som man får från CEREBRAL BORE. Kanske inte är så konstigt då bandet tagit sitt namn efter ett synnerligen brutalt vapen från spelet "Turok 2" och är
A piece of alien technology, the Cerebral Bore fires a small projectile consisting of several small hook-like protrusions, a drill head, and a powerful explosive charge. The weapon finds, detects and locks onto the brain-waves of potential targets. When shot, the projectile spirals towards the victim's head, burrowing deep inside their skulls (forcibly evicting blood and brain matter through a suction channel), and then finally exploding.
Musiken låter som man förväntar sig att den ska låta, men å andra sidan tror jag inte det är någon som förväntar sig att den brutala dödsmetallen ska komma med några gigantiska förändringar i sina uttryck överhuvudtaget. Det är inte här CEREBRAL BOREs förtjänster ligger, inte heller är det i innehållet i lyriken som mest handlar om död, blod, kannibalism och olika fysiska övergrepp med varierande straffpåföljd. Utan det som i alla fall jag tänker på som verkligen knäcker är Simone Pluijmers rent galna vokala kapacitet –  hon fullständigt blåser banan ren på jag vet inte hur många vokalister på ett sätt som får mig att imponeras av den mänskliga fysionomins möjligheter. Och innan ni nu hinner invända att det är hur lätt som helst att få en skiva att låta bra, låt mig då förekomma er och berätta att hon är prick lika imponerande live.
"Maniacal Miscreation" innehåller ju också ett antal fina låtar, och även om inte hela skivan håller toppklass så är det svårt att inte uppskatta låtar som The Bald Cadaver, Entombed In Butchered Bodies, Flesh Reflects The Madness och 24 Year Party Dungeon där bandet visar fin talang för låtskrivande förutom grym instrumentalism.
"Maniacal Miscreation" är en skiva som inte tillför något nytt till subgenren rent musikaliskt, men som jag verkligen inte tycker att man kan avfärda on a whim. Den uppenbara spelglädjen och Pluijmers mer än väl godkända insats gör att skivan sticker ut lite från mängden.