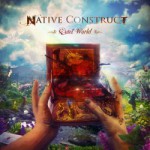 ARTIST: Native Construct
TITEL: Quiet World
RELEASE: 2015
BOLAG: Metal Blade

BETYG: 7/10
SKRIBENT: Martin Bensch
Så här skriver Metal Blade i utskicket om NATIVE CONSTRUCT:
Native Construct is the product of collaboration between several students that began in 2011 at the storied Berklee College of Music in Boston, Massachusetts. Fueled by a desire to breathe new life into the modern metal genre, Native Construct artfully blends a wide spectrum of compositional influences, ranging from classical all the way to prog metal and musical theatre. The result is a wonderfully unique sonic texture, made up of extended-range guitars, theatrical vocals, and a full complement of symphonic instrumentation. Guitarist and composer Myles Yang's passion for innovation, coupled with his extensive academic study of arranging and compositional techniques, makes Native Construct a truly distinctive up-and-coming metal act.
Jag vet vad jag tänkte när jag läste orden Berklee College Of Music: här kommer nästa DREAM THEATER. DT började också sin bana på detta mer än välrenommerade lärosäte. Det finns vissa beröringspunkter: pretentionen att vara svår – NATIVE CONSTRUCT blandar och ger från en mängd genrer. Är du genrepurist kommer du att avsky detta. Här samsas: jazz, fusion, symfoniska ansatser, singer/songwriter, death metal, blastbeats och episkhet. Och om ni undrar: ja, det förekommer saxspel.
Utmattande – javars. Men också extremt kul, och oerhört befriande. Det är väldigt modigt av ett band att vara prick så här tillkrånglade, och på något märkligt sätt reda ut det. Samtidigt känner jag – har inte BETWEEN THE BURIED AND ME redan gjort detta? Jo, så är det – och det blir också en akilleshäl för NATIVE CONSTRUCT – för trots att detta är sjukt kul att lyssna på (helt ok att hoppa på mig för detta, jag kommer inte att ge vika) så peakar musiken på "Quiet World" inte på skalan för originalitet. "Quiet World" är dock tillräckligt genomarbetad för att vågen till slut och till stora delar tippar över till skivans fördel. Inte minst för att musikerna i sig är vansinnigt begåvade och verkligen vågar ta ut svängarna maximalt.
Är du på nyfiket humör tycker jag att du ska kolla in "Quiet World" – om inte annat för att testa hur mycket hjärnan pallar att utsättas för. Genrepurister gör klokt i att hålla sig borta.