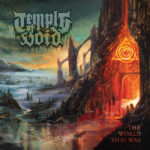 ARTIST: TEMPLE OF VOID
TITEL: The World That Was
RELEASE: 2020
BOLAG: Shadow Kingdom Records
BETYG: 8/10
SKRIBENT: Robert Gustafsson
Jag har följt jänkarna i TEMPLE OF VOID sedan de debuterade med utmärkta "Of Terror And The Supernatural" 2014, och ständigt fascinerats över hur de klarar att få sin döds-doom att låta svängig fast det stundtals går i snigelfart, i vissa låtar knappt mätbart i Bpm. Anledningen är ett genuint hantverkskunnande när det gäller låtsnickeri, och tredje given "The World That Was" är dessutom den mest lättlyssnade plattan från bandet. Sannolikt också den bästa till dags dato, och därmed en ypperlig väg in till detta band.
Totalt bjuds vi på 5 riktiga låtar + 1 mellanspel över 37 minuter. Inledande A Beast Among Us är ganska talande för bandets sound, men redan i Self-Schism så inleder man på ett sätt som luktar gamla ALICE IN CHAINS i dödstappning – och i Leave The Light Behind är det lika delar NOVEMBERS DOOM och PARADISE LOST som skiner igenom. Det är tillsammans med avslutande titelspåret skivans bästa låtar och ett exempel på hur TEMPLE OF VOID lånar referenser av andra utan att på något sätt släppa sin egen identitet.
Sist men inte minst: har du sett "När Lammen Tystnar", seriemördarfilmen med Hannibal Lecter som centralfigur? Är det något band som skulle kunna göra en lyckad cover på ledmotivet så är det TEMPLE OF VOID!