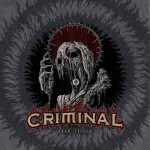 ARTIST: Criminal
TITEL: Fear Itself
RELEASE: 2016
BOLAG: Metal Blade

BETYG: 5/10
SKRIBENT: Martin Bensch
Anton Reisenegger kanske får några av er att nicka igenkännande? Gitarristen kom vid tiden för LOCK UPs "Necropolis Transparent" med i denna elitgrindgrupp. I övrigt så är han ansvarig för PENTAGRAM CHILE och nu albumaktuella CRIMINAL där han är ende kvarvarande originalmedlem.
CRIMINAL, det kan jag säga direkt, kommer inte med "Fear Itself" hamna på några årsbästalistor. För det är bandets hybrid av death/thrash/groove metal alldeles för ooriginell och generisk. Dock – med Reiseneggers och leadgitarristen Sergio Klein – mer än lovligt spelglädjefyllda spel så lyfter skivan ändå över det medelmåttiga.
Kompet bestående av Zac O'Neil på trummor och Dan Biggin på bas gör jobbet utan något extra egentligen. Det svänger inte ett jota utan stampar på med samma finess som en bulldozer som river ett hus.
Bäst är det i Shock Doctrine och The Needle And The Knife.