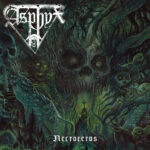 ARTIST: ASPHYX
TITEL: Necroceros
RELEASE: 2021
BOLAG: Century Media

BETYG: 8/10
SKRIBENT: Robert Gustafsson
Full patte. Som en stridsvagn, knäckandes träd och övriga hinder – så har vi vant oss att höra ASPHYX från Holland, och den tionde fullängdaren "Necroceros" är inte annorlunda. Eller?
Kvar finns såklart manglet. Kasta in två nävar BOLT THROWER/MEMORIAM/HAIL OF BULLETS och en näve kängpunk så har du receptet som hållit Martin Von Drunen och hans anhang flytande de senaste 30 åren och lyssnar man på spår som Molten Black Earth, The Sole Cure Is Death, The Nameless Elite eller Botox Implosion (vilken titel!) så får man precis exakt just det. En stridsvagn i ansiktet. Men det finns passager på "Necroceros" som gör detta alster mer intressant och varierande, och som egentligen rättfärdigar just de i övrigt närvarande benknäckande larvfötterna till dödsmetall.
Three Years Of Famine är mer doom än döds, och speciellt det riff som tar låten till sitt slut är inget annat är ren magi. Gitarrslingan i mitten av In Blazing Oceans är vemodig, sorglig och bedövande vacker. Det smakar PALLBEARER när de är som bäst, och baske mig om inte de små detaljerna gör att den här skivan höjer sitt betyg ett snäpp!