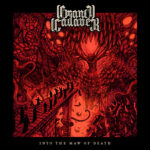 ARTIST: GRAND CADAVER
TITEL: "Into The Maw Of Death"
RELEASE: 2021
BOLAG: Majestic Mountain Records

BETYG: 8/10
SKRIBENT: Robert Gustafsson
10 sekunder. Mer behöver du inte av öppningsspåret Disanimated för att veta vad som serveras av GRAND CADAVER och om du kommer att gilla det. Det är utan krusiduller och rakt på sak: old school döds som inte drar sig för att återanvända gamla beprövade knep för att få det att svänga. "Into The Maw Of Death" är bandets fullängsdebut (köp det fysiska exemplaret så får du EP'n "Madness Comes" som extraspår!), men det är inga duvungar som befolkar det här bandet:
Michael Stanne (normalt i DARK TRANQUILLITY) hanterar growlandet, och det på ett sätt som är betydligt mer smutsigt och grovt än du kanske är van att höra honom på senare år
Alex Stjernfeldt (som huserat i THE MOTH GATHERER) och Stefan Lagergren (med ett förflutet i bland annat TIAMAT) lägger bisvärmsriff som minner om DISMEMBERs glansdagar.
Daniel Liljekvist smiskade skinn i KATATONIA en gång i tiden, här hanterar han trummor i ett fint samspel med blytung bas från Christian Jansson (PAGANDOM).
Du lär säkert läsa ordet "supergrupp" om dem här och där med andra ord, men känslan om man lyssnar på den här plattan är snarast att det är ett knippe snubbar som samlats och gör något de tycker om… vilket råkat resultera i klassisk svensk döds! Låtar som Grim Eternal, World Mauoseleum, Manifest Insanity och Cold Dead Light är underbart ruttna och snärtiga låtar som kittlar nostalginerven utan att vara klyschiga. Ge den här skivan 10 sekunder så vet du om du ska kolla mer eller inte!