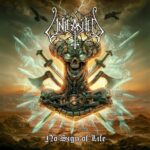 ARTIST: UNLEASHED
TITEL: "No Sign Of Life"
RELEASE: 2021
BOLAG: Napalm Records

BETYG: 7/10
SKRIBENT: Robert Gustafsson
Stabil – stabilare – UNLEASHED?
Uttalandet är inte utan fog, för den svenska dödsplutonen med fornnordiskt/vikingatema är med årets "No Sign Of Life" uppe på totalt 14 fullängdsplattor och i stort sett utan fläckar. Lägstanivån som herrar Johnny Hedlund (bas, sång), Anders Schultz (trummor), Tomas Olsson och Fredrik Folkare (gitarr) besitter är löjligt hög, och i formatet som är UNLEASHED vet man precis vad man ska göra för att ge fans och lyssnare vad man vill ha. Kort sagt: vet du vad UNLEASHED brukar pyssla med så innebär "No Sign Of Life" inga direkta överraskningar och ytterligare en sten att foga till samlingen.
Personligen håller jag sektionen med titelspåret, The Highest Ideal och Midgard Warriors For Life som ligger ungefär i mitten av plattan som starkaste delen, men det där är såklart upp till tycke och smak. Sannolikt kommer många av fansen att jubla högst över förstaspåret och singelsläppet The King Lost His Crown eller avslutande Here At The End Of The World som tillsammans ramar in plattan, och just det där säger väl det mesta om UNLEASHED 2021.
Pålitligt. Stabilt, och fortfarande med så pass stor variation och olika låtstrukturer att det finns något för alla olika typer av fans.