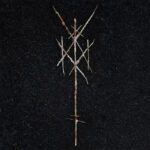 ARTIST: WIEGEDOOD
TITEL: "There Is Always Blood At The End Of The Road"
RELEASE: 2022
BOLAG: Century Media
BETYG: 7/10
SKRIBENT: Robert Gustafsson
Belgiska WIEGEDOOD släpper sin fjärde skiva, och den första att kliva ur ramarna på inledande trilogin "De Dooden Hebben Het Goed I-III" vad gäller namnet. "There Is Always Blood At The End Of The Road" är inte bara ett riktigt tufft namn på en skiva, det är också mer av den aningen hypnotiska och stundtals nästan mässande black metal den här kärva trion producerar. Ömsom får man en argsint attack där bandet går på med frenesi – nästan ett tordön av soniska krigsförklaringar – och ömsom mässande riff. Knappa 45 minuter lång är plattan, och personligen är det en ganska lagom portion WIEGEDOOD. Inte så mycket att orken tryter, och inte för lite så att det inte hinner bli en bra upplevelse. Allra bäst tycker jag bandet är i låtarna Until It Is Not, Now Will Always Be och Nuages på denna platta, och det beror kanske bara delvis på att det är bra låtsnickeri – kanske är det också för att de ligger i mitten av alstret och då är undertecknad som mest samstämmig med musiken?
Inledande FN SCAR 16 skaver kanske lite då det är som att kasta sig ut för en klippa, på samma sätt som avslutande Carousel också är en stark låt – det är de förresten till stor del alla 9 låtarna – men skaver för att det är på upploppet och uppmärksamheten trubbats lite. Smart i så fall av WIEGEDOOD att lägga de starkaste låtarna i mitten, och en höjdpunkt att se fram mot varje gång skivan spelas.
"There Is Always Blood At The End Of The Road" släpps visserligen på ett kommersiellt starkt bolag i form av Century Media, men det är inte med ett lättlyssnat kommersiellt anslag. Det är mer ett smutsigt finger i ögat och blodig näsa efter ett slagsmål än glättiga och lättillgängliga selfies över den här musiken. Prova!