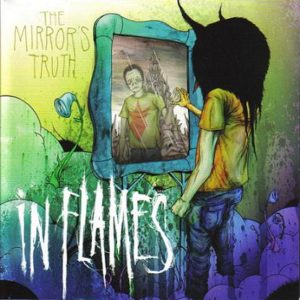 ARTIST: In Flames
TITEL: The Mirror's Truth
RELEASE: År
BOLAG: Nuclear Blast

BETYG: 8/10
SKRIBENT: Amelie
Två år efter senaste albumsläppet, "Come Clarity", skickar In Flames ut fyraspårs EPn "The Mirror's Truth" som en försmak av kommande album, "A Sense of Purpose". Ja, om det är en försmak, i meningen representativ för hela albumet återstår att se. Titelspåret kommer i alla fall att kännas igen och återkomma som ett spår på fullängdsplattan.
"The Mirror's Truths" fyra spår känns som en väldigt tight enhet. Ingen av dem sticker ut musikaliskt utan den "inflameska" djupt melodiska dödsmetallen sitter precis där vi är vana. Mycket gitarrer utan att man behöver sakna tryggheten i Leinads, förlåt Daniels, signifikanta trumspel.
Lyriken rör sig kring temat som anslås i titelspåret. Jämfört med tidigare har Anders Fridén här gått från de existentiella frågorna till att vidga perspektivet: "jaget" blir del i ett "vi", målområdet växer från den egna existentiella ångesten till att omfatta en större helhet. Mig får han med sig hela vägen.
"We're not even trying"
"Delete the past, and every step is pure"
"Yesterday doesn´t come"
"Don´t say I didn`t try, but I´d rather not live here anymore"
Titelspåret The Mirror's Truth, med video, har spelats ett par veckor. Abnegation, den låt som varit ute sedan i höstas, är på alla sätt vassare i denna version, än den tidigare som ligger på samlingsplattan "Viva la Bands Vol. 2". Sången, arrangemanget, till och med texten har vässats och gör denna tidigare något mediokra sång till en favorit.
Det här är en liten platta att ta till sitt hjärta som helhet, gör det – så växer sig helheten mycket större än summan av delarna.
/BiblioteKarin