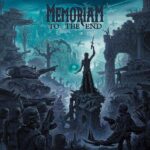 ARTIST: MEMORIAM
TITEL: "To The End"
RELEASE: 2021
BOLAG: Reaper Entertainment

BETYG: 8/10
SKRIBENT: Robert Gustafsson
Ibland kan det nästan kännas lite orättvist, som när MEMORIAM manglar ut sin fjärde giv på lika många år och helt problemfritt når sina förväntade höga verkanshöjder. Manglig döds som påminner om BOLT THROWER? Visst, hur svårt kan det vara. Punkinfluerad skrammel? Absolut. Doomkänsla? Jaja, det fixar vi lite i förbifarten. Det har säkert inte varit riktigt så enkelt för herrar Karl Willets (sång), Scott Fairfax (gitarr), Fran Healy (bas) och nye Spikeyh T Smith (trummor) som jag vill påskina, men det är ändå känslan man får. MEMORIAM kan liksom inte misslyckas och har en lägstanivå som de flesta av oss drömmer om att nå som högstanivå.
"To The End" innehåller mer av den vara som tidigare skivor "For The Fallen", "The Silent Vigil" och "Requiem For Mankind" gjorde, och med ett öppningsspår som Onwards Into Battle ger man de flesta lyssnare precs vad de vill ha: Old school benknäckardöds med krigstema. Det är däremot inte den låt som är intressantast på skivan, i alla fall inte över tid. Där placeras istället de båda lite långsammare styckena Each Step (One Closer To The Grave) och As My Heart Grows Cold, i vilka bandet närmast påminner om ett släpigt PARADISE LOST. Även industripunkiga Failure To Comply och Vacant Stare sticker ut, men är kanske mindre i min personliga smak för att benämnas som bäst på skivan.
MEMORIAM har inte tömt sina kreativa bägare trots den rappa utgivningstakten, det står alldeles klart på "To The End"!